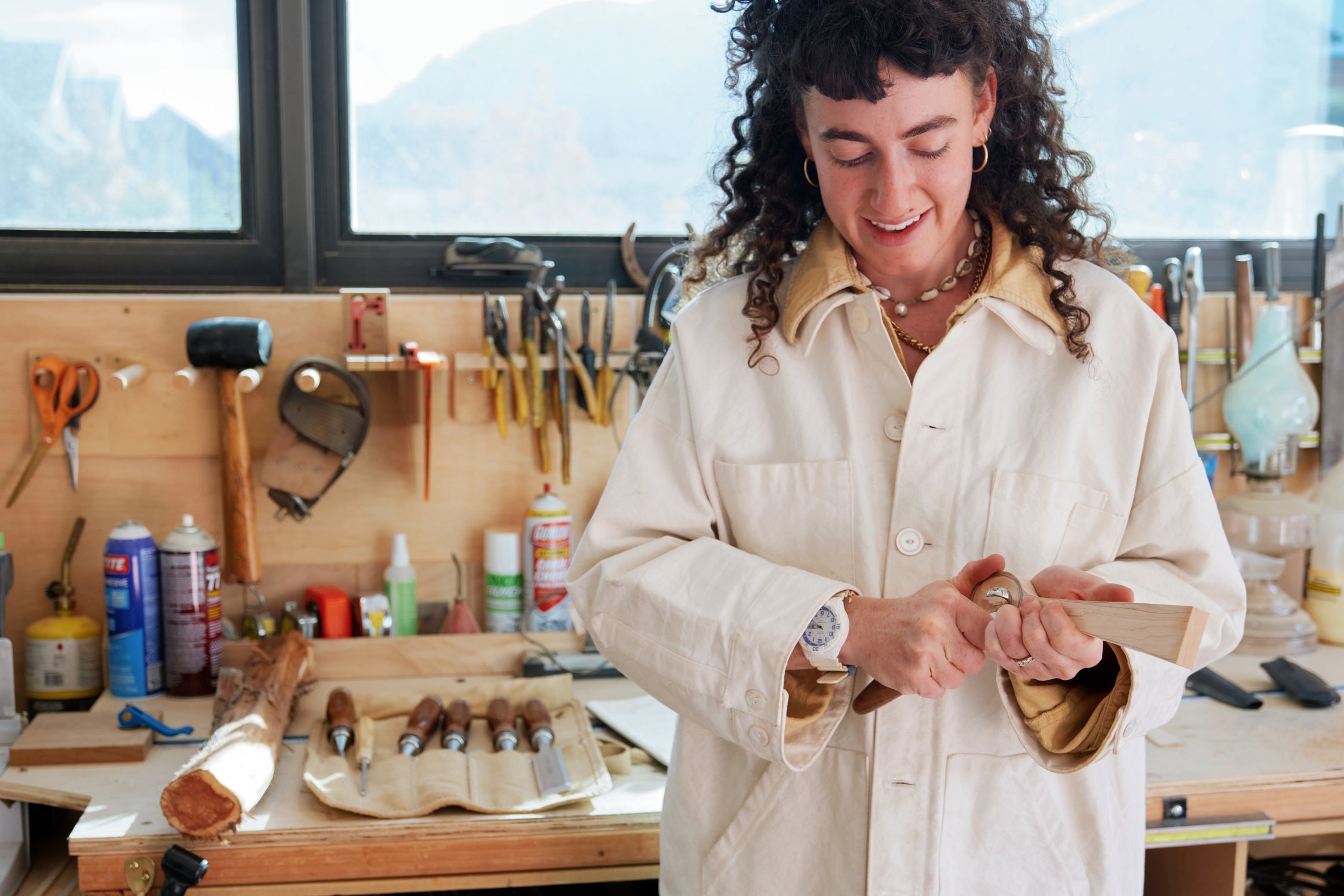 Sunshine Canyon Furniture, one of the shop's newest lines, is especially close to home for Cedar and Hyde - founder Jessie Milavitz was born and raised in Boulder, CO, and returned home during the pandemic to put down roots. We love the intention and care that goes into her handmade pieces, and the results are both beautifully organic and uniquely functional. Jessie was kind enough to put some of her thoughts into words for a perfect introduction, both to her and her work. Welcome Jessie! 
Q: Tell us about yourself, and about Sunshine Canyon.  
A: I got into woodworking during my freshman year at California College of the Arts, where I received a BA in Furniture Design. I was born and raised here in Boulder. All through high school, I worked for the City of Boulder Pottery Lab, so when I went off to college, I thought I should learn to do something I never tried before, as opposed to ceramics, which is what I was doin' all the time. Before then, I had never touched a saw in my life.
I started Sunshine Canyon Furniture Company when I made my senior thesis back in 2019. From there I went on to rent a space at this bomb woodshop on the water in Alameda, CA, before moving back to Boulder in 2020. Like many people, my work has been in flux the last few years - from furniture in the beginning to more small pieces and sculptures, depending on what my studio space allows - just rollin' with the flow of an unpredictable coupla years.
Q: We know you're about to move into a new house and studio - what are you most excited about for this new space of your own? 
A: It's gettin' there, just got shop wired up and finished painting the house this week! I started working in communal woodshops, then worked out of a mixture of my father-in-law's garage and on the road these last few years. I am glad I worked in shared spaces for so long, because it really taught me to keep it clean and respect the space (plus I love all the people), but boy, it's gonna be cool to be able to leave a project out on the workbench overnight. I am also looking forward to getting more machines to start focusing on building more furniture and having the ability to work big again, especially with sculptures. Go big or go home!
Q: What inspires you - are there any beliefs or principles that guide your work? How do you get inspired again if you find yourself at a creative roadblock? 
A: Right now I am really inspired by three main things: meditation, sports, and the landscapes I saw while traveling the southwest and Baja. With meditation, I have been doing a lot of thinking about love, healing, and inner peace this last year, so how could that not seep into my work? I'm also inspired by the zen flow one hits while doing sports, like skiing, mountain bikes, moto - whatever is your thing. I realized that the flow I hit on the trail was the most blissful feeling and I needed to start conveying that bliss through my woodwork.
As far as the landscape of the southwest, my husband and I lived out of our pick-up truck for four months last fall/winter, camping from as far north as southern Montana all the way down to Baja. Months of driving off road and sleeping outside got me really in touch with observing my surroundings. We spent days in the thick of scenery that looked like a painted backdrop from another planet. I always saw the sun rise and set, saw the same familiar stars every night, read the gems of 1980s romance novels like Palomino by Danielle Steel (I left my book choices up the chance of free book exchanges). I mean, even now, there are so many days where I am just driving across town and see those big fluffy Colorado clouds in the bright blue sky and think "this is what it's all about."
I have hit roadblocks for sure. I didn't feel like carving when my dad first got sick last winter, I didn't feel like carving at points where I was sick - usually sickness is the roadblock. But then I meditate (Isha Kyiya is my go-to), or go camping with my man, or listen to some rockin' music (Chris Hillman, 90's Buffy Sainte-Marie, P.M. Dawn, and The Band alway hit) and get over it!
Editor's note: Jessie releases killer Spotify playlists on her site and Instagram if you're in need of some tunes to go with your new Sunshine Canyon pieces. 
Q: How do you choose your materials? Do you have a favorite wood to work with?
A: I try to choose only ethical woods - only domestic; the more local the better. For example, all the wood used in the latest collection for Cedar and Hyde is entirely urban treefall. The Monterey cypress and some elm moved with me from California, so that's some Bay Area treefall. The elm used in the trivets, though, is all Front Range treefall, very local. That's a big reason why every piece is so unique. The wood inspires the shape, the wood determines the size, it's a natural material that isn't following any people rules, so I guess the wood is kinda the boss. I do go for regular kiln-dried lumber when it comes to furniture, but stick with plentiful American woods, like maple, ash, etc. One thing I am looking forward to is the property my new house is on has a ton of mature trees that need some TLC and using the thicker branches that come down for new pieces. 
Q: Are any of your pieces extra special to you? 
"Sayla Vie" is pretty special to me. That's the first thing I made after finding out my dad was really sick last winter. I hadn't worked on anything for a few weeks, then was meditating one day and saw that vision with the words "the sun will always rise." I guess I realized that even though my dad was gonna die, it wasn't the end of the world - there is always another day and the sun is just gonna keep doin the same old thing. My dad did end up passing away a few months ago, so he is on my mind with a lot of work I do now. I recently carved another sculpture called "The Raven," which was inspired from a meditation I did on my birthday where I felt a glimmer of him and got the message, "there is only love."
Q: What have been the biggest challenges for you as a woodworker? What is most meaningful to you about this work? 
The most challenging part of being a woodworker is when I don't feel well. It's soooo physical, so if you got a big-time ache or pain, it's really hard to get to work. I've been on a big health journey these last few years and even got a new ACL at one point. Health is a privilege, it can take a lot of hard work, and I never take it for granted. About a year or two ago, I made up the expression "Health Furniture" - like health food for your home. The idea is to fill your house with furniture that nourishes it and makes it feel real good. I always try to go into making with a head space of love and peace. I don't wanna put bad emotions into my work, these things are going into peoples' houses! They gotta have that gooood energy!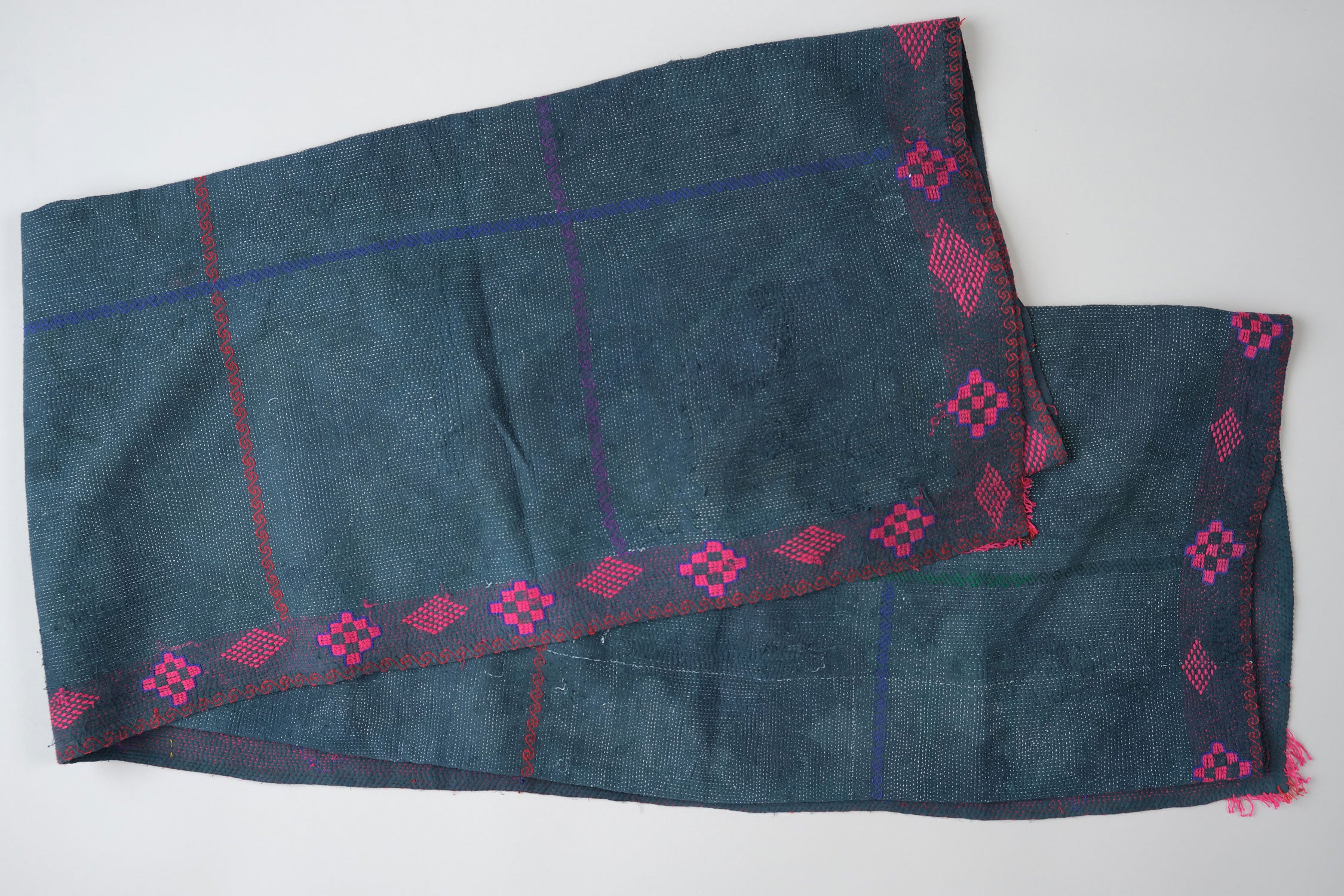 Fall is here, with its crisp mornings and suddenly dark evenings - the perfect time to wrap yourself in comfort and lean into the warmth of home in the coming winter season. We recently welcomed a ...
Read more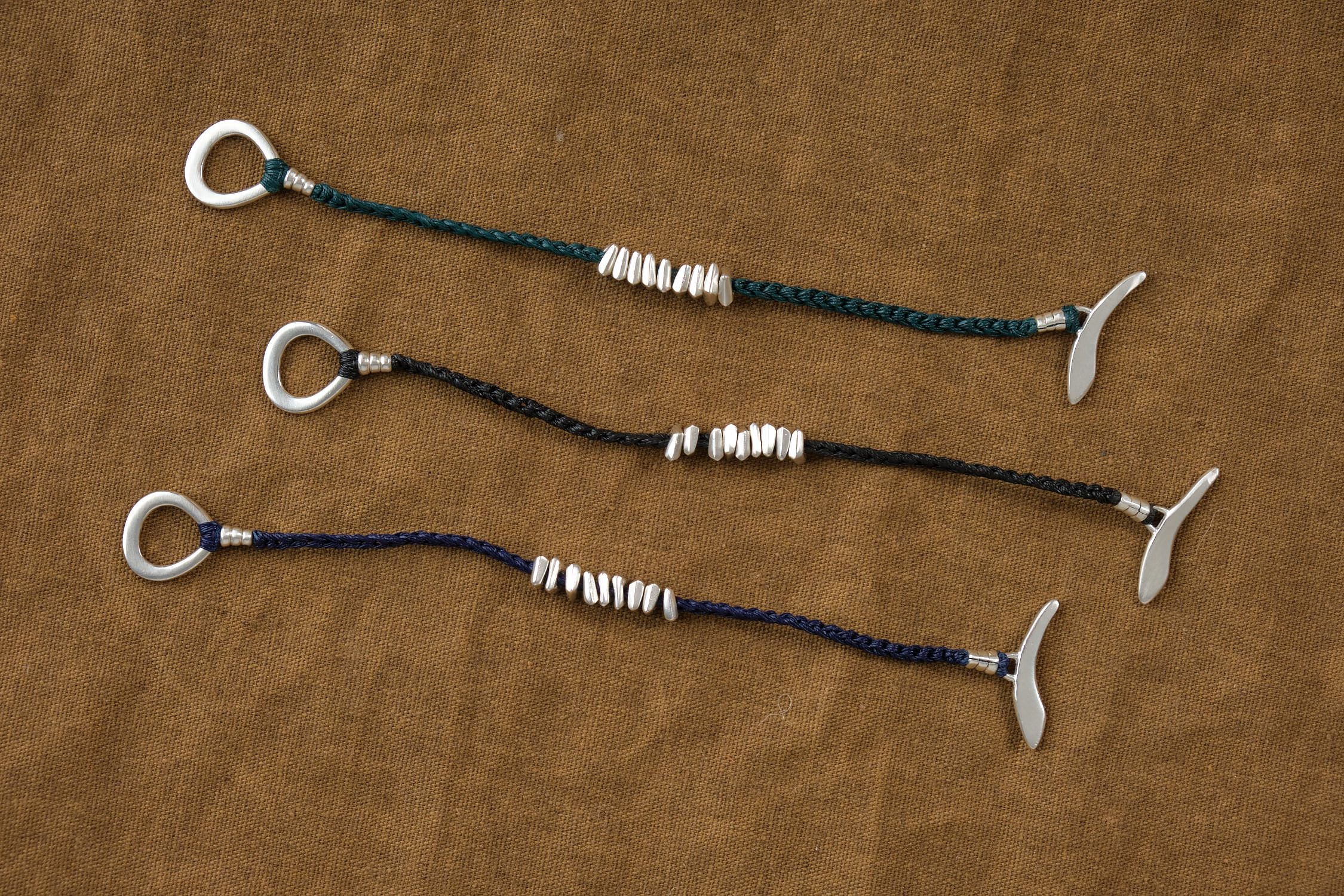 We recently welcomed a new selection of exquisitely handmade silver treasures from New York designer Jill Platner that bring a magic glow all their own to our jewelry case.
Read more