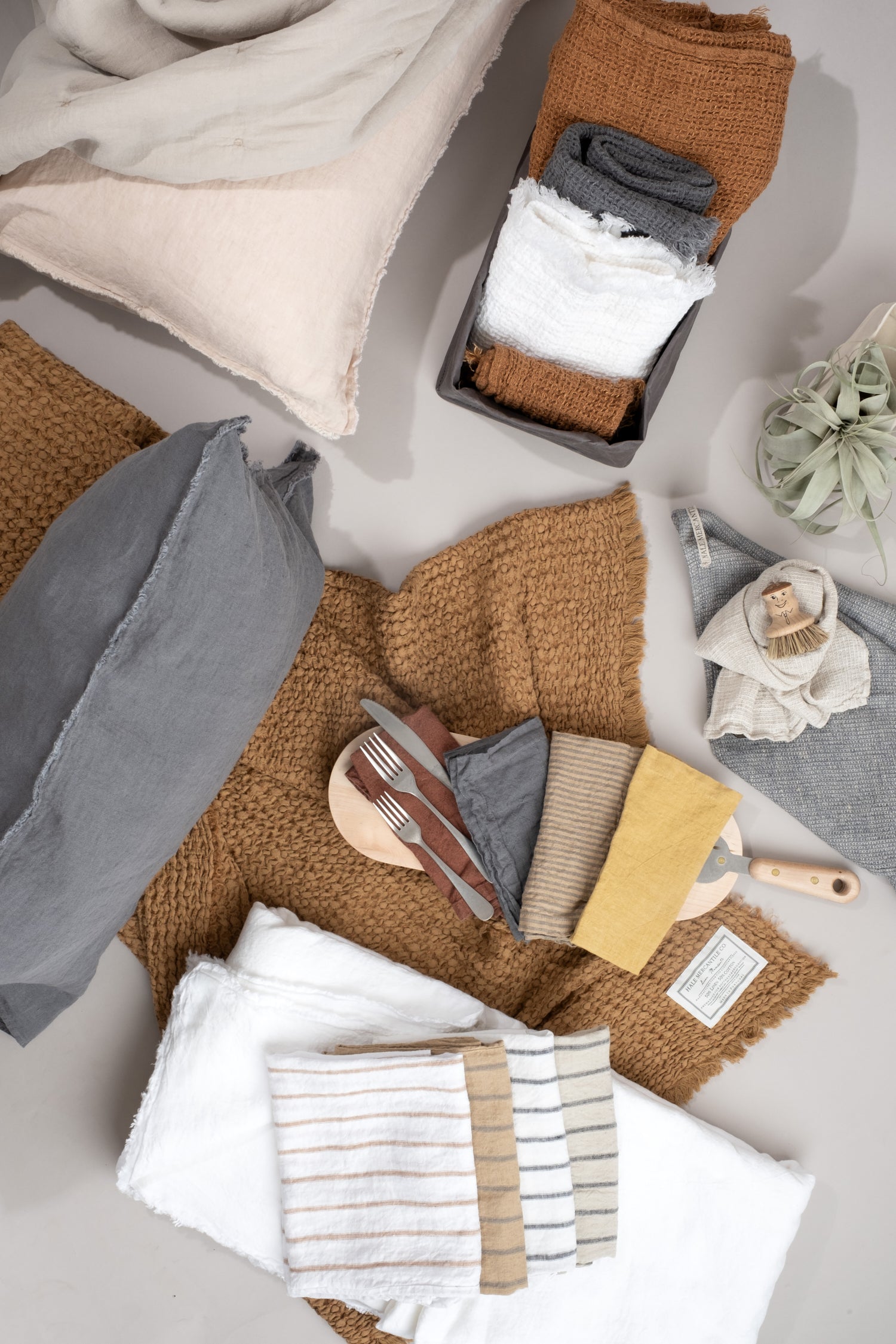 The Culture of Flax and Linen
Hale Mercantile is a very special brand, and anyone that has seen or experienced their product immediately recognizes this. Above all else, Hale Mercantile's approach to linen honors the historic craft and culture of the flax and linen industries of Eastern Europe. The entire product range is grown, spun, dyed, woven and sewn in Europe. This commitment to the region and its rich history allows Hale to produce a product of unheard charm, quality, and longevity by modern industrial standards. 
In order to learn as much as possible about the superior linen line, we decided to go straight to the source, our very own Hale Mercantile aficionado: Nate Michielson. 
Hi Nate, where do we start? Tell us a little bit about Hale Mercantile.
When describing the Hale Mercantile energy to customers I find myself using the words "romantic, bucolic, or pastoral." There is an aesthetic quality to Hale that just exudes an ease of comfort and richness, and a textural quality that confirms all of that. Its richness is instantly recognizable but only through our storied references of a long-gone historical past. Hale gives us the opportunity to live that modernly.
When it comes to purchasing bedding, everyone is different. Hale Mercantile is a versatile line, can you tell us a bit more about the different styles that they offer? 
Hale produces bedding in two popular ranges. Basix and Flocca. To really emphasize the loose and casual, European-countryside feel that Hale is famous for, Flocca offers a hand-tufted raw hem finish. Adding in loose, cascading layers help achieve this look. If you love the Hale colors but prefer lines a little more Scandinavian and modern, their Basix range is finished in a clean, simple hem. A neat tuck and clean styling complete this look. Both styles maintain the same quality and feel of all Hale products, but each with the ability to fine tune the look of your bedscape. 
We carry a curated selection of Hale Mercantile's 25+ bedding color range. Focusing in on a wide breadth of earthy tones, neutrals, and seasonal pops of color. We love all the Hale colors, and love working on special orders to get you the arrangement of your dreams. We have swatches of all of Hale's colors in the shop, and are here to help get your selection narrowed down whether you're here in Colorado or further away.
So Hale Mercantile products are spun, dyed and woven in Europe. Can you tell me more about the fabric that Hale uses?
Hale uses flax grown in France and Belgium, both countries with a long proven history of high quality flax. Hale follows a tradition of european weaving, focusing on high quality small production, emphasizing care and compassion for material and people. Every product in Hale Mercantile's collection is fully produced regionally in Europe.
For context; linen describes the woven textile, while flax is the natural product the linen is derived from. Colloquially textiles of any material product are referred to as "linen" such as bed linens or bath linens, but here we're talking specifically about the flax derived textile.
Linen is cool to the touch, making a great textile for bedding. It's also able to absorb up to 20 times its weight in moisture before feeling damp, so is a great material for towels in both the kitchen and the bath. It's incredibly resilient and robust, and very forgiving of any laundering mistakes actually being one of the only textiles stronger when wet. It's versatile, sustainable, and a great material for almost every area of your household.
Hale Mercantile dyes each spool of linen yarn individually. This results in a beautiful visual texture, but also ensures that your products will look the same regardless of when you purchase them. Many linen and textile companies cut costs by weaving the product, then dying the completed piece. If you've ever purchased a pillow set from a company, and months later a duvet cover and found that the color of the same name is completely different; it's because of this dye lot technique. "
Quality linen has such a timeless appeal but don't I have to worry about wrinkles?
Linen has been given a bad rap. Many think linen is too high maintenance due to its proneness to wrinkle and that it needs to be regularly steamed and ironed to look presentable. Or just more simply that it's a dated relic. Linen's nature to wrinkle is a direct characteristic of its durability. With no natural stretch or elasticity, linen is incredibly robust but needs a little help straightening itself out. 
Products such as the Waffle bath towels, Flocca Blanket, or Tutto hand towels are woven using techniques that give the final form more elasticity than the flax alone can provide. Warp and weft threads are interlaced and floating giving the textile that 3 dimensional raised pattern with its abundance of material. As it has more flexibility and movement structurally, wrinkles aren't at all an issue with this sort of product.
As for bedding which has a tighter weave and is more prone to showing wrinkles, brands such as Hale Mercantile make them an aesthetic asset. Their bedding lends itself beautifully to a casually elegant look. Lived-in wrinkling and crinkling is encouraged. It's a bedscape where laziness is desired; why do a military tuck on a duvet every morning when you can just loosely drape it? Wrinkles provide the character and charm of this bucolic European personality. 

Sometimes cleaning large duvets and other bedding can be a hassle, how does one properly care for Hale?
So much easier than you think. A gentle and warm wash cycle with similar colors, and a low tumble dry is all that your bedding needs. Just be sure not to use any fabric softener, bleach, or optical whiteners. Hale Mercantile tumble washes and dries all of their bedding before it gets sent out, so even if you accidentally dry on a high heat, there won't be any shrinkage. For best care practices with linen, alternating between two sets (especially a product subject to high friction like a fitted sheet) is preferred. This gives the fibers an opportunity to relax and avoids wear-outs. A quick tumble dry before putting the pieces on your bed removes any hard creases from folding, and gives your textile the perfect tumbled look. 
You're going to see a lot of lint as you begin to dry your new linen products, particularly towels. As for all textiles, the looser the weave the more lint you can expect. This is completely fine and to be expected. It's all part of your linen's lifecycle. Think of linen as you do raw leather or selvedge denim; through age and use it only becomes better as a worn extension of yourself. As linen products are washed and dried, they shed some of the smaller woven fibers. As it does this, your product is actively becoming softer and more "lived-in" as we've described here. It is best to not overcrowd your washer and dryer, and have your settings on a low tumble. This allows more of those weaker strands to remove themself easier, speeding up the process. 
Also known that this is happening at such a small scale, these are fibers smaller than your eye can see and are not part of the structural integrity of your product. No need to worry.
Just like us at Cedar & Hyde, Hale Mercantile is very concerned about the context in which their products are presented and offered to their customers. For this reason Hale Mercantile is only available for sale in store. If you are interested in this their product line, please email for additional information: customerservice@cedarandhyde.com
While last week was the official Earth Day, at Cedar & Hyde we like to think every day is earth Day. From environmental to health issues there are a multitude of reasons to use clean and organi...
Read more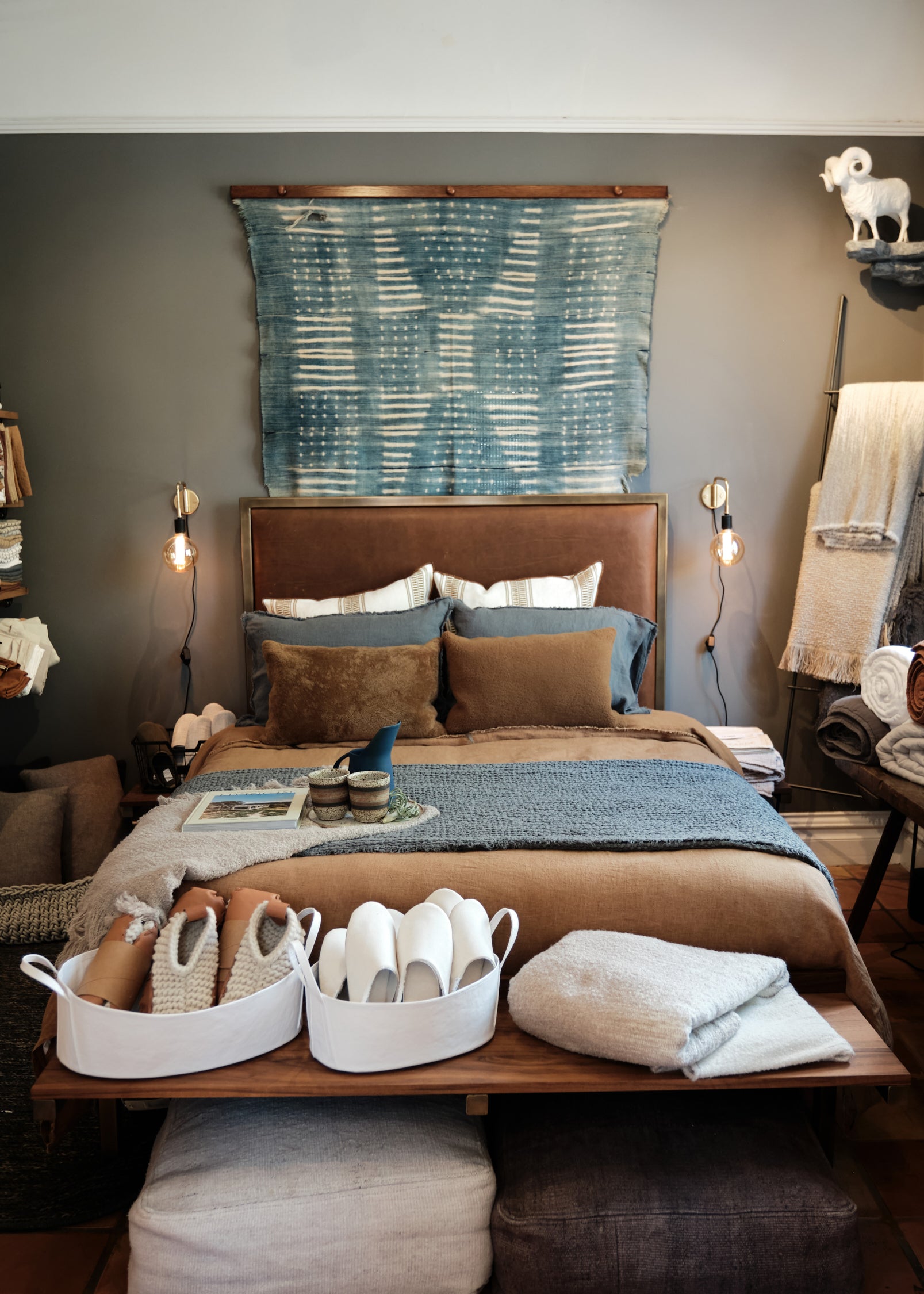 There's nothing like crawling into a fully dressed bed after a long day, especially one crafted from fine European linen yarns. A bed serves as a refuge from daily stress, and we know that there's...
Read more