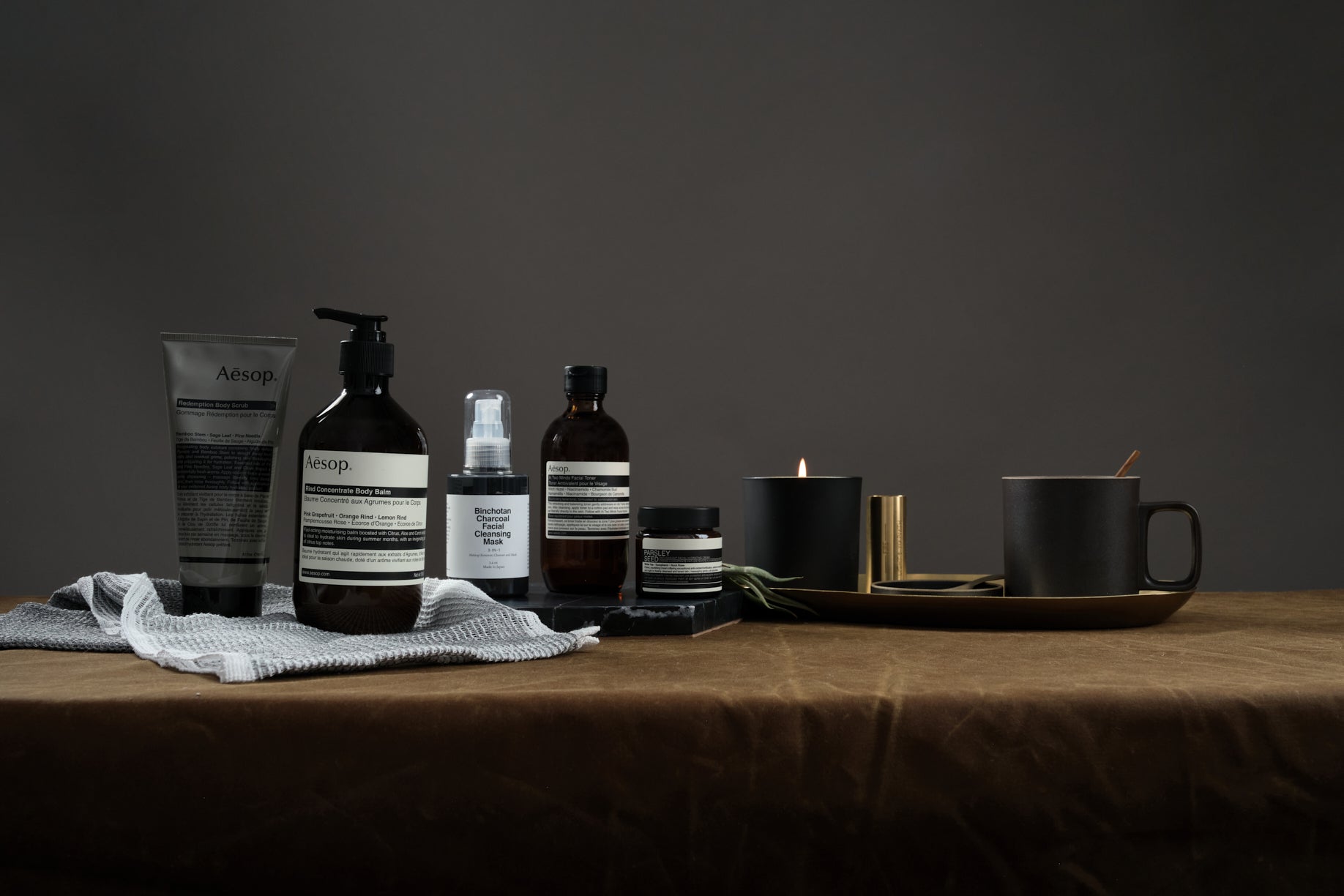 It's no secret that winter can wreak havoc on your skin and leave it begging for an intervention. Dry air means dry skin and no one likes looking cracked, parched, or flaky. To help ward off the winter woes we use our much-loved skin and body care products by Aesop. These products will keep your skin moist and supple all season long.
What we love about Aesop is how versatile each product is. You can customize a routine thats perfect for you with products you can use day or night. When drinking plenty of water and using a humidifier isn't enough for your skin these products really have you covered. Anytime of the day you'll have intensely nourished, beautiful skin. 
Your skin needs different things at different times of the day. During the day it is exposed to harsh impurities like the sun, sweat, and makeup. From 9-5 you need products that will protect and hydrate. We also love how the Binchotan Charcoal products complement all things Aesop. Our morning shower isn't complete without the Binchotan Charcoal Facial Puff. This item gently exfoliates, cleanses, moisturizes, and effectively balances your skin's pH level. 
Dry skin will stay dry without some light exfoliation. The facial puff is a gentle way to remove dead skin cells while the Purifying Facial Exfoliant Paste offers a more complete cleanse. The fine Quartz and Lactic Acid in this product gently cleanses and unclogs pores leaving skin soft and hydrated. Exfoliating can also help to reduce flakiness and dullness giving you a perfect canvas for the rest of your skincare routine.
Follow up your exfoliation with the Aesop In Two Minds Facial Toner. Toning your skin is a step that can significantly, and visibly, improve your complexion. This product will complete the cleansing process while soothing and balancing skin. 
Moisturizing is essential. The parsley seed anti-oxidant hydrator is a rapidly absorbed facial moisturizing fluid. It will nourish and protect with a light finish that prepares your face for SPF and makeup.
Our nighttime skincare routine is just as important as the daytime. The products should be hydrating and restorative. During sleep your skin is rejuvenating and replenishing itself, and the right products can enhance this process. 
We love to start with a warm bath accompanied by the Aesop Body Scrub. It leaves our whole body refreshed and smooth. Next, we apply the nourishing Body Balm on slightly damp skin to help lock in moisture. The hydrating balm with skin-nourishing nut oil extracts helps alleviate seasonal dryness.
A good nighttime moisturizer is a must and the Parsley Seed Anti-Oxidant Facial Hydrating Cream is potent, soothing, and hydrating. We apply this after we cleanse and tone our skin so that it can properly sink in. This rich and buttery cream is formulated with emollient botanicals and anti-oxidant rich ingredients. Macadamia Seed, Hazel Seed and Evening Primrose, restores dryness and leaves skin looking naturally vibrant and dewy. 
When our skin needs a little extra TLC, we reach for the Binchotan Charcoal Cleansing Mask. This purifying and moisturizing mask absorbs excess oil and nourishes skin for a healthy, noticeably clearer complexion. The charcoal deeply cleanses and removes toxins and bacteria. While it draws out impurities from your pores it also helps prevent future breakouts. 
When we are finally on the go, we stock our favorite bag with Aesop's travel size options. Keeping our hands both clean and hydrated is top priority. For hands subject to chilly weather or frequent washing the rich concentrated hand cream is one of Aesop's most sought after products.
Whether it's day or night, winter or summer, your skincare routine is about more than just beauty. Aesop and Binchotan Charcoal source ingredients from the most reputable suppliers across the world. Clean beauty products are imperative for overall health. Don't just glow up, glow within. 
For an even deeper dive, we suggest reading this post by Aesop on their winter skin recommendations. Read more.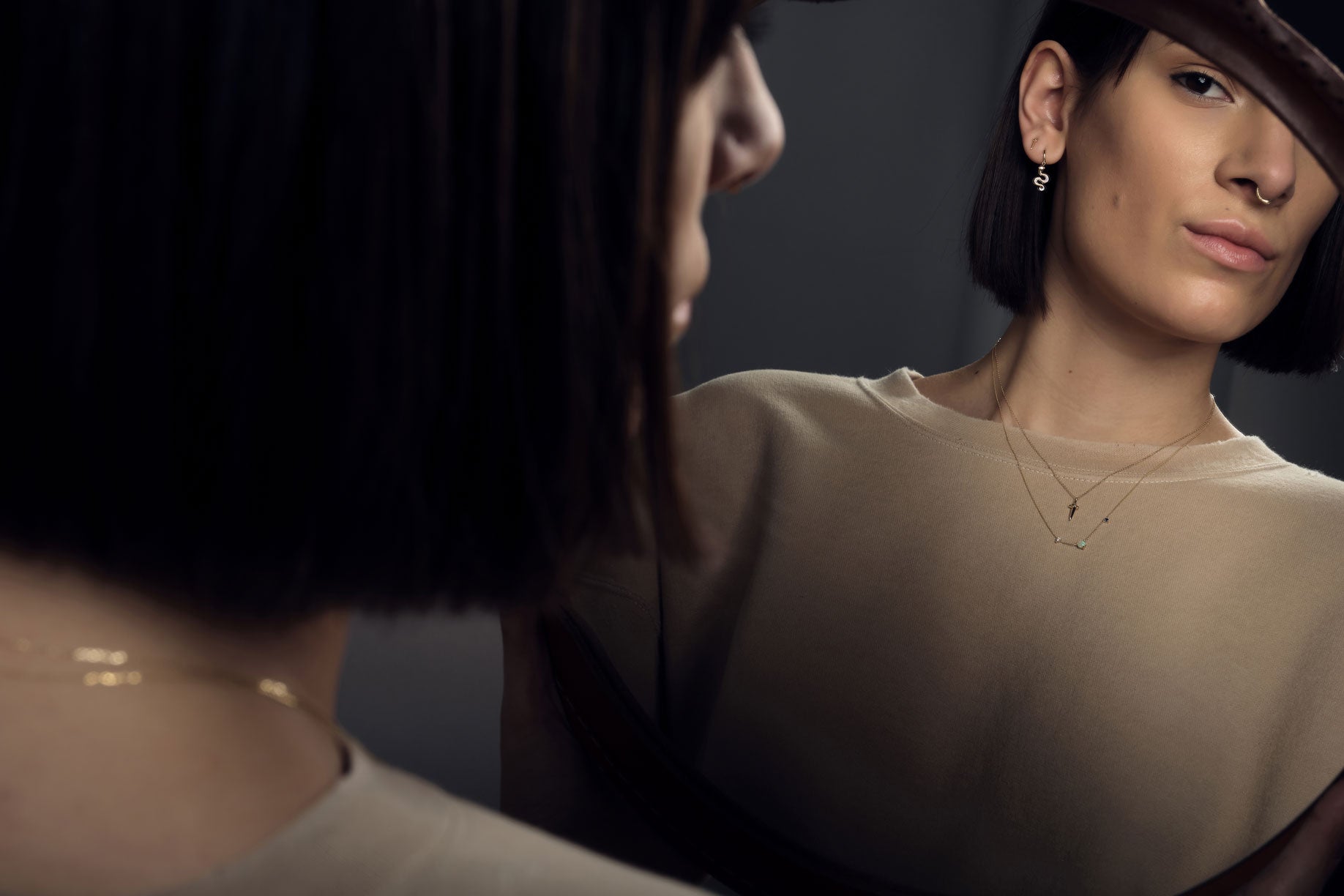 Pamela Love's Golden Talismans
New York native and jewelry designer, Pamela Love is an artist at heart. She is known for her versatile unique pieces and offbeat, eclectic approach. The understated everyday options of her new co...
Read more