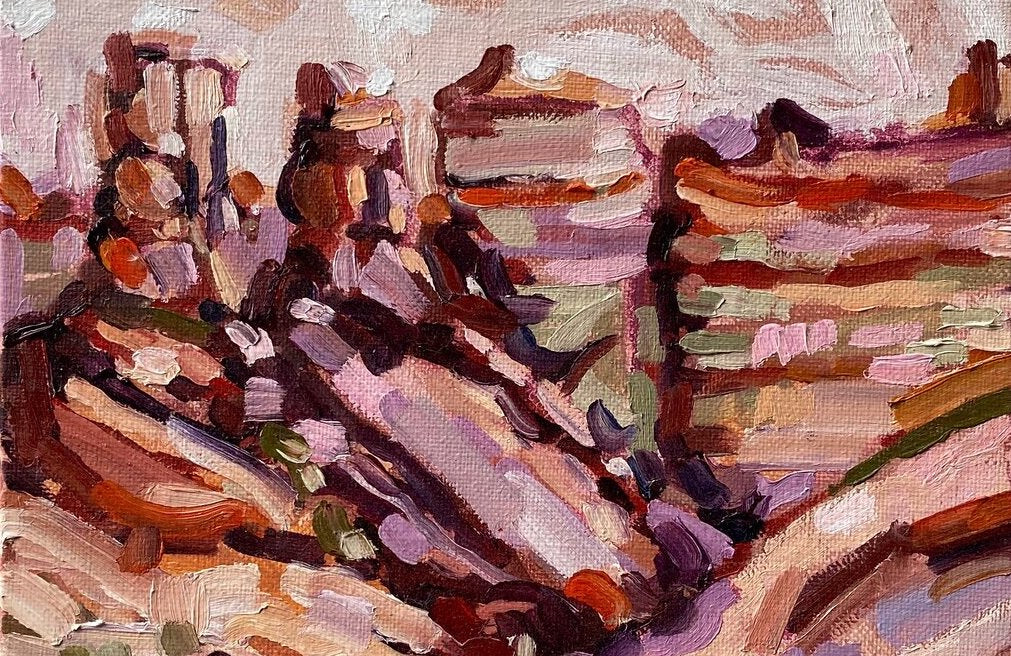 Artist Feature: Amy Kay Hazelwood
One night, while climbing my way through a long and winding Instagram tunnel, I came across artist Amy Kay Hazelwood. Her work immediately captivated my eye and sent me down yet another tunnel, her story and body of work. I had the pleasure of emailing back and forth with her to conduct this interview, and I can tell you that her spirit is as gentle and free as the strokes on her canvas. Her work brings a sense of calm, while transporting you to an abstract or beautiful landscape you are happy to get lost in. 
Poss: I believe you just wrapped up your 100 day project, which was a series that consisted of 2 paintings per day along with journal entries. I loved how you used a new color every day to set the tone as your inspiration. Was this project something to help you stay sane during quarantine? Or was it a goal of yours before the pandemic?
Amy: Yes—completing a series of this magnitude has been a goal of mine for years, but when the world as we knew it began to unravel at the project's start in mid-March, it absolutely became a way to help keep me sane! To give a bit of history, the 100 Day Project is an open-ended endeavor that celebrates creativity of all forms by encouraging its global community of participants to choose a focus and create something—anything—for 100 days (or however long it takes to complete, because really, there are no rules).
I participated for the first time four years ago as a way to reacquaint myself with the creative side that I had lost touch with over the years. Although I have participated in the project for 4 consecutive years, this is the first time I have actually completed all 100 days!
This year, I set out to use each day's process of writing and painting as a way to "untangle" the chaotic thoughts and feelings I knew would arise during such a volatile season. This daily ritual of painting and writing kept me grounded. Over time, I began to notice not only a subtle transformation in my work, but also a transformation in my experience with the project, as well as in myself. It is truly special what monumental things can be created by the accumulation of small steps habitually performed each day.
Poss: Making a business out of art can be incredibly tough. Not only does the artist brain generally repel all things structured, there is marketing, branding, shows, networking, claiming your worth, and tweaking your style to what is sellable… all which can be exhausting to the creative process and ultimately expensive. Have you taken any classes or had any mentors help you make sense of it all?
Amy: There really is so much more than meets the eye when it comes to building and maintaining an art business! I am still quite new to the game, so I am very much still learning what works for me. Like most artists, structured ways of thinking may not come naturally to me, but I was fortunate to strengthen that underdeveloped side of myself somewhat while pursuing an education in science and dentistry. I am learning that planning and structure can be extremely beneficial to my process, and am finally beginning to see these two sides of myself as complementary rather than conflicting!
I did invest in an art-specific business course by a talented artist, Emily Jeffords, which has been very helpful in guiding me through the systems and methods of making a living as an artist in today's online world. One of the most valuable concepts that I learned from this course is also ironically the easiest to overlook: that there is value in bringing and sharing art with the world. Of course, I know this on a deep level—but coming from a career as a dentist, where the value you bring to the world is easily quantified in units of teeth saved and people helped, it is easy to underestimate the intangible impact of beauty, art, and connection.
And making that impact with art is more possible now than ever! The internet has truly introduced so many opportunities for creatives. I feel so fortunate to be able to connect with many other talented artists and beautiful souls worldwide. In a way, the online art community as a whole forms a collective group of mentors! The added benefit of this level of connectedness is that no matter how weird your weird side is, there is ALWAYS going to be someone out there to appreciate it and connect with it. For that reason, any time I have ever felt a hint of pressure to be anything but purely authentic—I can easily push it away, because I know there will always be someone out there who is enthusiastically on my same wavelength.
Poss: You mentioned that the technical skills you learned in becoming a dentist translate to some of the jewelry making and metal work you do now, but how did that time in the white coat influence your painting? Even if on a more spiritual level. 
Amy: Firstly, I want to stress that I am not actually a jeweler…just a wannabe-jeweler! My dental school focused heavily on hands-on labwork, requiring us to fabricate our own gold crowns and bridges using lost-wax casting. Though those time-consuming projects seemed fruitless at the time, the fascination of practicing such an ancient art caught up with me years later. I now have some limited equipment in my garage where I have started to practice simple techniques. Soon, I hope to pursue other avenues of learning locally. I can't wait to take a class someday with the Boulder Metalsmithing Association!
My dental career hasn't influenced my painting in any ways that are overtly visually noticeable. On a spiritual level, however, my creativity is inextricably intertwined with my experience as a dentist. In my first years practicing, I started painting for the first time in 10 years as a way of reclaiming the creativity I felt I'd lost during my time as a student. Soon, painting wild lands became my escape from a career whose particular stresses I managed poorly. Sometimes I find myself drawn to painting large, loose, abstracted landscapes with a dynamic and fluid rhythm of dancing brushstrokes—seemingly as a rebellion from the precision of dentistry. But other days, I'll dive into the meticulousness that I became used to in my career, creating smaller and more detailed pieces. No matter what style I create in, I find myself most drawn to exploring moments of peace and wonder in nature, particularly mountainscapes of Colorado.
Poss: 2020 has been the most unique and unpredictable year of our lifetime. What was your word for this year back in January and if you had the chance to change it, let's say in April, would you have?
Amy: Though I always choose a focus word at the beginning of each new year, choosing a word for 2020 proved particularly challenging, because I knew that this new year would be one of great personal transition—a true journey into the unknown. I originally pursued dentistry because being a "tooth artist" felt far more practical and realistic than becoming a painter. But the realities of practicing dentistry left me unfulfilled, and the call to create was far too strong. When I had an opportunity to sell my practice at the beginning of this year, I knew I had no choice but to entertain my childhood fantasy of living a creative life. And so, exactly at the time that "Covid-19" became a part of our daily vocabulary, I sold my practice and started completely fresh with the intent to pursue art professionally.
The same mindset that led me to switch career tracks also led me to choose 2 complimentary words to set the tone for this journey into the unknown: "more" and "true." Overall, my intention was to finally reclaim my sense of self in pursuit of my innermost dreams. "True" was a reminder to pursue my most authentic self—by referencing both my inner truth as the goal, and also the act of "truing" my inner compass to guide the way. The word "more" was a suggestion from a supportive friend, to reference to all the things in this world that I wanted to focus on to achieve that—specifically, more meditation, more writing, more creating, more connecting, more healthy decisions, and more positive vibes.
When it comes down to it, I feel that pursuing your most authentic self is the single most important thing that anyone can ever do. It is the greatest gift you can give to this world. And in a society that often values maintaining the status quo over originality, that pursuit can feel like a radical act of bravery. 
Because the words I chose centered on something I think is so important to remember at all times, especially in our most trying ones, I think they remain the perfect ones to carry me not only through a personal evolution, but also through an evolution of the world. 
Poss: What's next? Any new projects on the horizon for us to keep our eyes on?
Amy: Right now, I feel like I am embarking on a journey into an entirely new version of self—both on a personal level, and as an artist. Anything seems possible! The biggest questions I am always asking myself are: How can I use my vision to bring value into this world? How can I increase my connection to other humans, and deepen my connection to the land? I recently created and released my very first collection of paintings, inspired by the desert and the writings of environmental activist Terry Tempest Williams. It was this collection that allowed me to realize my calling to use my art to advocate for our environment—the health of which acts as a foundation for all other aspects of a healthy society. I'm so excited to dive deeper into environmental activism with my art and to learn what possibilities may be available.
Since then, I recently started working on my second collection: a series of pieces inspired by the high country within the local Indian Peaks Wilderness. This collection will be a reflection on a deepening connection to and understanding of this land, as well as a meditation on how I fit into its history and its future. What I'm most excited about is for this release to hopefully include my first collection of handmade jewelry inspired by the land! I'm not sure if this dream will be possible just yet, since I am still very much in the learning stages of metal work. That being said, my vision for the general future definitely includes releases of a wide array of artistic creations, from paintings and drawings to jewelry and...well, anything is possible!  The one constant in any release? A portion of each sale will be donated to an organization dedicated to protecting our environment. 
Finally, another goal of mine for this year is to dive deeper into the local art scene in Boulder, Denver, and Nederland. Covid-willing, I would love to connect with local businesses, artist spaces, and of course, other local artists! I have a feeling that when people are finally able to interact somewhat normally again, the collective creativity of a local community finally freed from the confines of a limited world could result in veritable artistic magic. And I, for one, can't wait to be a part of it!
Follow Amy's current projects at: https://www.amykayhazelwood.com/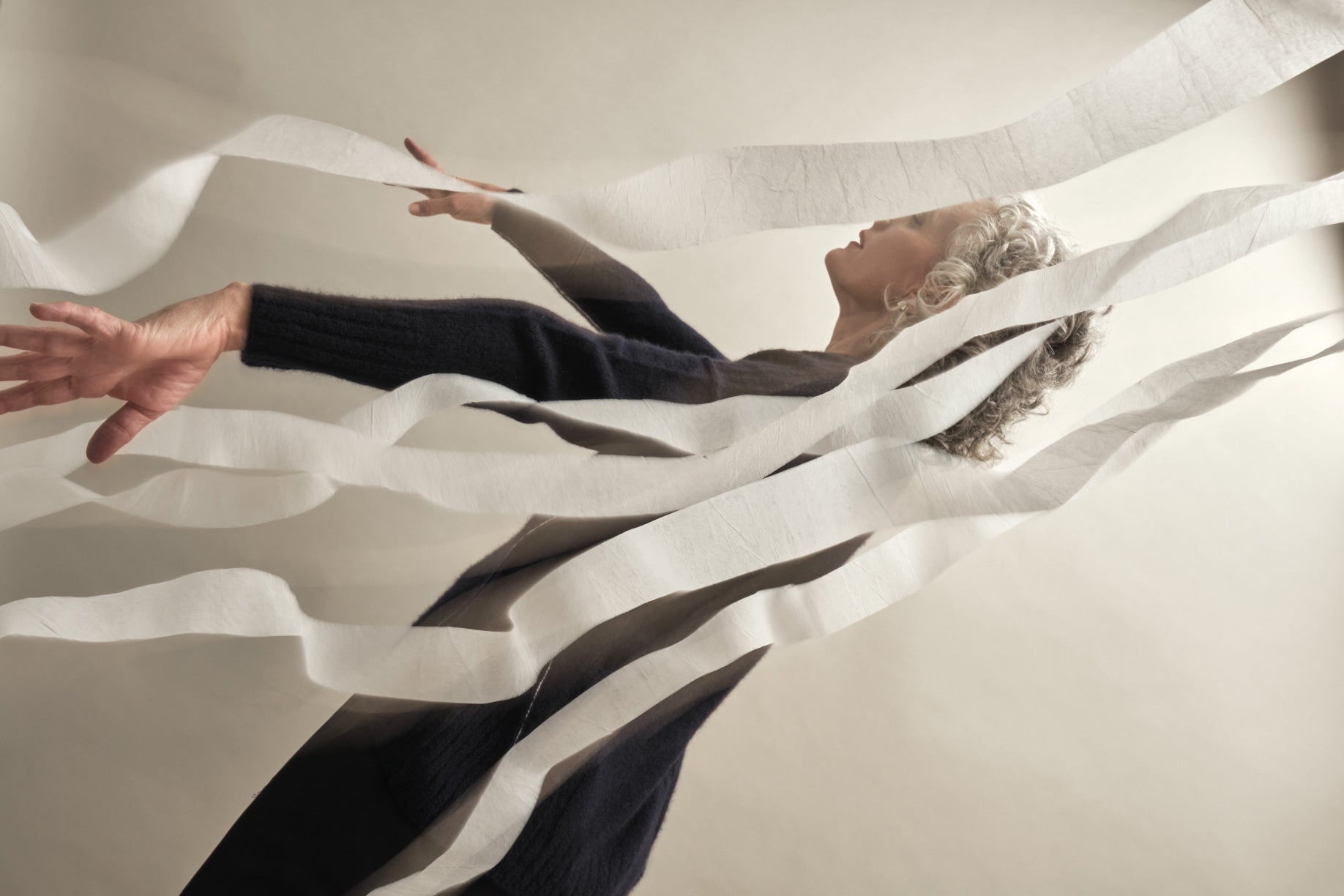 The Paychi Guh ("pay-chee goo") philosophy is music to our ears: everyday indulgence. When we think 'indulgence' these days it's exciting to encounter a sustainable option that feeds our desire fo...
Read more