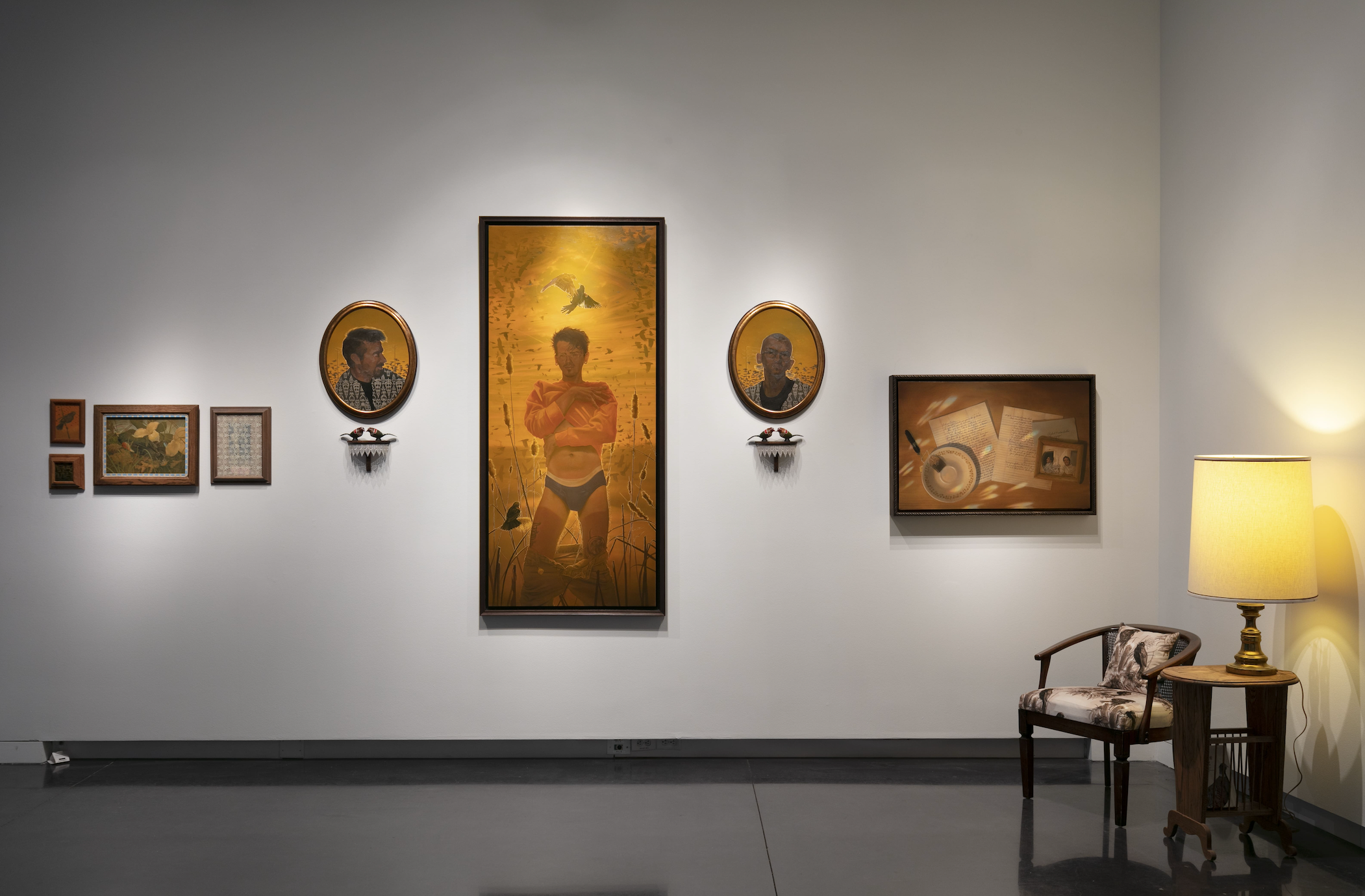 Wildlife Art, Rural America, & Queer Shit
As pride month, June is a time to celebrate the LGBTQ+ community, and the freedom to be oneself. While there is much to celebrate, it is also a great time to reflect on the importance of acceptance and inclusivity; both for yourself and onto others. We had the pleasure of interviewing Robert Martin, an incredible artist that provides their deeply personal and powerful perspective on queer identity.
"Robert Martin earned their BFA in Studio Art from the University of Wisconsin-Stout (Sculpture and Drawing, 2017), and an MFA in Studio Practices at the University of Colorado-Boulder (Painting & Drawing, 2021). They have exhibited at GOCA in Colorado Springs, Sierra Arts Gallery in Reno, IDS Tower in Minneapolis, the Valley in Taos, and locally around Boulder. They were a 2020 Rough Gems Curator at Union Hall in Denver, a 2019 NEST Grant recipient at CU-Boulder, and their work was featured in UW-Stout's 2017 Journal of Student Research."
Q:  This collection is your thesis work, and you've also written an accompanying 25+ page thesis paper. Not only did a lot of care go into the act of painting, but also into the thoughts and motifs of the work. It's so richly layered with meaning. As a brief primer, what are you exploring with this work? 
I'm creating within the realm of rural aesthetics. Wildlife art, mostly. Basically, I am using the motifs of this genre to communicate queer themes, identities, and storylines on the rural American stage. I am attached to wildlife art because I want to create in a visual language that is legible to the people who raised me, and I would argue that only with some degree of attachment comes any hope for betterment.
The specific content of my thesis is related to personal and family narrative, primarily related to my uncle and namesake, Martin Ross McRoberts, who died of HIV the year I was born in 1994. It is my hope that these personal incorporations are regarded as a generous and tender offering… and maybe even a remedy to the banality of heteronormative wildlife art and the erasure of queerness from rural America.
Q: In trying to come up with questions to ask about your work, I'm inevitably finding myself isolating these two topics of queerness and rural america into neatly quarantined groupings. That sort of thinking is obviously very antithetical to your work. How do those two inform each other for you?
A: Well, rural America is queer. I believe all things––flora, fauna, human and otherwise––have the potential to, and always in some capacity do, exist beyond their dominant binary and heteronormative understandings. It's easy to overlook this fact because these existences are often not commonly represented, which is kind of where I come in. I'm basically just showing people that those two things, rurality and queerness, are not separate.
[Robert Martin, MFA Thesis Installation View, 2021]
Q: The showpiece of the thesis exhibition is undoubtedly the self portrait, Marsh Portrait. You've painted yourself very vulnerably; life-sized and near nude in a Birth of Venus pose, against a golden-sunset soaked marsh. This is obviously a very literal depiction of yourself within your work, but as "artist" how is your identity and self ever-present in what (and how) you create?  
A: Absolutely. Creating from a place of personal experience feels very important to me, because sincerity is very important to me, and I'm not afraid of being sentimental in that sense. Sentimentality is a complex emotion straddling the inexpressible space between joy and sorrow. Oftentimes we shy away from sentimentality, but there's an irrefutable authenticity to these emotions related to our personal histories. With the thesis work, all components – visual and conceptual – and rooted in my own personal history.
[Marsh Portrait, 2021 acrylic and oil on stretched canvas]
Q: Your relationship to your uncle Marty, whom you never met but are indelibly tied to through name and legacy, is a core theme of your thesis collection. There is a large generational hole that exists in the queer community from the lives lost of events as large as the AIDS crisis, or as personal as familial rejection. Access to queer history, especially a personal one, is often inaccessible if not completely lost.  Despite never knowing Marty, you've been able to construct a personal connection through stories and artifacts of his life. How has this connection manifested through your life and through the creation and research of this work?
A: Definitely. Like myself, my uncle was queer, lived his life in some part as an artist, and moved away from rural Wisconsin in order to live openly. Beyond the parallels we share, his existence as an out queer man paired with the negativity/homophobia he experienced within my mother's side of the family before his tragic passing ultimately secured my acceptance. I believe this is largely due to persisting feelings of guilt within the family.
Since I bear his name, and an increasingly similar life, my mother's side has teased me with ideas of reincarnation, and have began sharing artifacts from his life and time with me; sleeveless shirts and high-waisted denim pants straight out of the '80s, thin neckties, suspenders, jewelry, and [even] jock straps. A large box of these items, the bulk of the inherited artifacts, was passed along to me in September of 2015, around the time I really became interested in exploring my gender expression. Interacting with the items felt in some way like a conversation, and through these interactions I was able to explore and question my gender expression subtly, allowing me to realize my non-binariness in a safe and slow manner.
[Zelda Gooch (Martin Ross McRoberts, 1979), 2021 colored pencil, acrylic and oil on mounted paper in reclaimed frame 11.25 x 14.5"] 
Q: Are there any particular artists that you are looking at right now that you would like to share? 
A: Absolutely! I'm really into A Grix's work. They are a ceramicist and current MFA Candidate at CU Boulder. The work is really large scale and to me feels at the same time fanciful and bodily. Jacob Aaron Schroeder will always be one of my favorite artists. He's an interdisciplinary artist based in Minneapolis whose commentaries on sexuality and masculinity are incredibly smart, with a healthy serving of… painful I suppose. Jes Fan is a sculptor I've been following for a few years now. They make immaculate installations using materials I feel a lot of artists are afraid to dig into. Alexander Van Keulen is a friend from Minneapolis but is truly the most talented designer and illustrator I've met. Their creative work really needs to be on every album and book cover/movie poster/billboard/what have you. The last creative I'll mention is Evan Mills, who I actually came across on TikTok. He's a mostly comedic musician and songwriter based in Chicago. I really love his more tradition-length/format music though; Sissy Boy in particular.
[Valerie's Letter, 2021 Oil on stretched canvas in custom frame 27 x 39] 
To see and read more about Robert and their amazing art visit their instagram.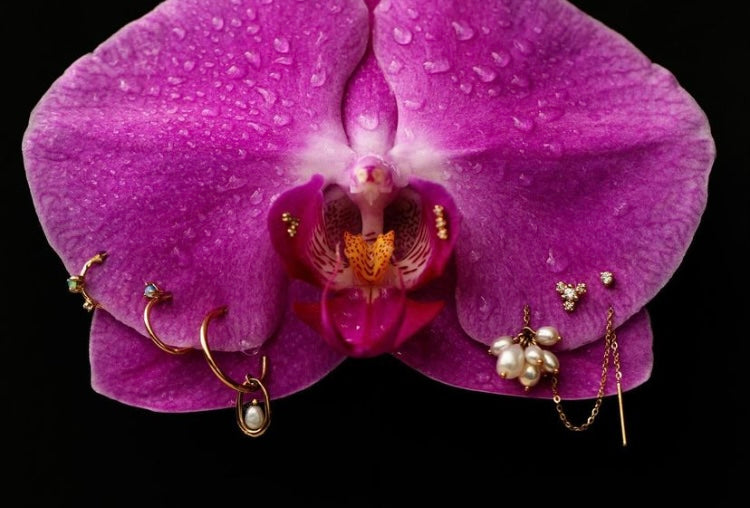 The Power and Freedom of Femininity
More often than not you see jewelry worn and marketed towards women rather than men, but the traditional lines between what's feminine and masculine are blurring. There's truly nothing like the int...
Read more